WHO AM I?

It is important to know who you are entrusting with your legal claim.
I have enjoyed a number of career choices and hobbies. All of these provide unique life experiences that combine to make me a more effective advocate for my clients.
- Education
- Legal Experience
- Peer Reviewed
- Mediator
- Published Opinions
- Piloting
I have experienced a number of avocations, including: a former Law Enforcement Officer; GIA Graduate Gemologist; Retail Jeweler; Pawnbroker; Photojournalist and FAA licensed Commercial Pilot with Instrument single-engine and multi-engine airplane and helicopter ratings. But, for more than 17 years, I have helped clients as an advocate and lawyer for those who have lost a loved one or have, themselves, been catastrophically injured in an accident involving aircraft, trucks, boats, automobiles or defective products.
After passing the Florida Bar on the first attempt in 2000, I began practicing with Spohrer & Dodd (formerly Spoher Wilner), a Jacksonville civil litigation firm. I am admitted to practice before all of Florida's state and federal courts and the United States Supreme Court. I also admitted to the Western District of Michigan and Colorado Federal Courts. I have been specially admitted on a limited basis to a number of other federal courts in Arizona, New Mexico, New York, Oklahoma, S. D. California, Kentucky and Connecticut. In 2017, I was specially admitted to practice before the High Court of Kenya in Nairobi.
I have earned a reputation as a tough litigator. I have tried cases in the state and federal courts before judges and juries and have recovered verdicts against the largest corporations, insurers and governments in the world.
I am a Jacksonville native and have lived in here most of my life. I am engaged to a former Ukrainian attorney who worked for the Department of Justice and now works here as a paralegal for an insurance defense law firm. I have a son in college. My father is a retired Jeweler who has operated retail jewelry stores and pawn shops since the 1950s. My mother is a retired Travel Consultant. I share my son's Boxer, Rocky.
Trial Experience
Most civil claims are settled before trial. But, it is important to know that your lawyer can and will try your case if not settled. My trial experience follows:
Anders v. United States, Federal Court, Middle District of Florida (Before the Hon. John Antoon, II., District Court Judge, 2017). Federal tort claim action against the United States for air traffic control negligence. Controllers sent the pilot of an aircraft with a failing engine on a 30 mile trek to an airport that was only 5 miles away when he asked controllers for their help. (pending).
Von Guttman et al. v. Lady Lori Helicopters, et al. Trial before the High Court of Nairobi (Kenya) (2016, 2017), arising out of a helicopter crash in Kenya that injured my two London clients. (pending).
Harris v. K-Mart Corporation, a slip and fall jury trial in the Fourth Judicial Circuit of Florida (Before the Hon. Charles Mitchell, Circuit court Judge). The jury returned a $3,657,600 verdict.
Weidner v. United States, Federal Court, Middle District of Florida, Jacksonville division case number 3:02-cv-1114-J-32MCR (Hon. Timothy J. Corrigan, District Court Judge). This was a Tort Claim Action against the federal government arising out of an airplane crash. The liability trial was bifurcated. The Court held that the government was 65% at fault. A post trial Settlement of $9,480,000.00 was recovered by the consolidated plaintiffs.
Burchette v. Celedon Trucking Corporation, This was a Federal Court jury trial in the Middle District of Florida, Ocala Division case number 5:01-cv-368-Oc-10GRJ.(Hon. Wm Terrell Hodges, District Court Judge) After a large semi slammed my clients into the Interstate guardrail, they refused to be responsible for the damages. A verdict was rendered and the defendant settled for a confidential amount after trial.
Zeile v. Leggett, et al., Florida Circuit Court Jury Trial, Second Judicial Circuit of Florida. Leon County case number: 09-CA-5011. The bifurcated liability jury returned a verdict of 75% against one defendant and 25% a second defendant with no liability on the Plaintiff, which resulted in a post-trial settlement of $1,300,000.00.
Turner v. Donzi Marine, LLC., Florida Circuit Court Jury Trial, Fourth Judicial Circuit of Florida case number 16-2011-CA-10243. (Before the Hon. Hugh Carrithers, Circuit Court Judge). This maritime product liability action involved a traumatic brain and facial injury caused by a boat manufacturer's failure to properly install a windshield that detached while in use, striking the Plaintiff. The jury awarded a net verdict of $725,000.00 in the 2014 trial.
Wells v. Jakaj d/b/a Club Aqua, Florida Circuit Court Trial, Fourth Judicial Circuit of Florida case number 16-2010-CA-9015. (Before the Hon. Peter L. Dearing). This was a battery case against a local bar after its bartender struck my client, causing severe surgical injuries. The court awarded $351,319.00.
Davidson v. Mid-Florida Golf Carts, Florida Circuit Court bench trial, Fourth Judicial Circuit of Florida case number 04-CA006033. (Hon. Karen Cole, Circuit court Judge). This was a trial seeking damages against the owner of a commercial trucking for an accident caused by its driver. The matter settled for a confidential amount during trial before the verdict was rendered.
Gaylord v. Dean, et al. This was a contested liability auto collision case tried before a jury in the Florida state court. Fourth Judicial Circuit of Florida case number16-08-CA-007627. The matter was settled for a confidential amount after trial.
Landry v. United States, Federal Court, Middle District of Florida, Orlando Division case number 6:02-cv-691 ORL-28JGG. (Before the Hon. John Antoon, II., District Court Judge). Federal Tort Claim Action against the federal government alleging air traffic control negligence. This was a bifurcated liability trial ending with an order in favor of the government. Though a tough loss, the Landry verdict reflects that I am willing to take a tough case to trial.

See also other important pre-trial recoveries.
Hines v. Argus Int'l, Inc., 2014 U.S. Dist. LEXIS 68484 (M.D. Fla. 2014) 2014 U.S. Dist. LEXIS 123274.
Hartman v. U.S., 923 F. Supp. 2d 1287 (W.D. Ok. 2013), 2010 U.S. Dist. LEXIS 125102 (W.D. OK 2010),(Defendants granted summary judgment in wrongful death action because there were no facts or evidence to show that the subject aircraft's strike with the American white pelicans would not have occurred "but for" defendants' alleged failure to implement a wildlife mitigation program at Lake Overholser.)
Bruce v. Haworth, Inc., 2014 U.S. Dist. LEXIS 27186 (Where Georgia plaintiff sustained permanent and severe traumatic brain injury when hinge-mounted metal front door of cabinet manufactured by defendant, a Michigan company, fell on his head, Georgia's statute of repose, O.C.G.A. § 51-1-11(b)(2), applied because Georgia's interest in application of its law to the dispute was substantial.)
Schippers v. U.S. 2011 U.S. Dist. LEXIS 136980 (M.D. Fla. 2011) Reversed and Remanded 2013 U.S. App. LEXIS 9068 (11th Cir. Fla., May 3, 2013) (Trial Court initially held that Florida law should apply and there was no real conflict between Florida's and Texas's law. The 11th Circuit reversed, finding that the whole law of the place where the government's negligence occurred was the determining factor for choice of law in FTCA claim).
Hullum v. U.S., 2006 U.S. Dist. LEXIS 41767 (M.D. Fla. 2006). A claim arising from the Public Vessels Act after a contractor was allowed to fall three floors down a U.S.S. John F. Kennedy aircraft carrier access trunk by sailors who forgot to put safety nets in place.
Abrisch v. U.S., 359 F.Supp.2d 1214 (M.D.Fla., 2004). (In a Federal Tort Claims Act, 28 U.S.C.S. §§ 1346(b) and 2671, action, air traffic controllers' negligence in failing to give a pilot current weather conditions was 65 percent responsible for a fatal crash. The pilot, who chose to land under instrument rules conditions while fatigued and taking medications, was 35 percent responsible.)
Brunet v. U.S., 2008 U.S. Dist. LEXIS 4786 (M.D. Fla. 2008)(U.S. Coast Guard's failure to mark and light obstruction in a navigable waterway was discretionary).
Bashaway v. Cheney Bros., 987 So. 2d 93 (Fla. 1st DCA 2008)(Same-sex partner of motorist who claimed to be injured in accident could not assert claim for loss of consortium, as § 741.212, Fla. Stat. (2006), prohibited same-sex couples from marrying, which meant that such legal rights as would flow from marriage--such as the right to sue for loss of consortium--would likewise not be recognized in Florida).
Landry v. United States, 2005 U.S. Dist. LEXIS 33703 (M.D. Fla. 2005). (Government was denied summary judgment on the action of a decedent pilot's representative under the Florida Wrongful Death Act because material issues of fact remained as to whether any of the alleged acts of negligence by the air traffic controllers employed by the United States proximately caused a fatal aircraft collision.)
100 Foster Children v. Fla. Dep't of Children & Families, 871 So. 2d 217 (Fla. 1st DCA 2004) (Mandate was not available to compel government agency to do its job because their decisions were discretionary).
Forman v. Sikorsky Aircraft Corp., 2004 U.S. Dist. LEXIS 31996 (D. N.M. 2004) 2004 U.S. Dist. LEXIS 31992 (D.N.M. 2004).
In re RSM Richter Inc. v. Aguilar (In re Ephedra Prods. Liab. Litig.), 349 B.R. 333 (A claims resolution procedure adopted by a Canadian tribunal for the insolvency of a Canadian company was recognized and enforced in products liability litigation involving U.S. consumers because it provided for due process and, although it did not provide a jury trial, it was not manifestly contrary to U.S. public policy under 11 U.S.C.S. § 1506.)
Wolfson High School (1977-1979) Jacksonville, Florida.

University of South Carolina (1979-1984);
Member of marching band drum line;
Carolina Alive show band;
Zeta Beta Tau fraternity; and,
Gamecock Newspaper photographer
& editor.

Gemological Institute of America (1982);
Graduate Gemologist Degree (resident)
Santa Monica, California campus.

Florida Junior College at Jacksonville (1989);
Reserve Law Enforcement Certification.

Florida Coastal School of Law (1996-1999)
1st graduating class;
1st Board Certified Alum;
Juris Doctorate with Honors;
1st State Attorney Intern; and,
Law Review member.
In 2013, I was certified by the Florida Supreme Court as a Florida Circuit Court Mediator. This required five years of significant legal experience and 40 hours of bar approved mediation classroom instruction. I no longer mediate cases but doing so provided me with a more broad viewpoint.
In 2007, after only seven years of practice, I earned a Lexis/Nexis "AV" rating, highest peer review rating in the industry that is typically unavailable to attorneys with less than ten years of experience. To earn this rating, lawyers who have worked on matters with me and those against whom I have litigated were asked for their confidential review and opinions as to my legal ability and professionalism. After these secret questionnaires were scored, Lexis/Nexis awarded the rating. In 2013, my peer review AV rating was renewed.
Since 2015, I have also been named a Super Lawyer, by Thomson/Reuters, which is a major publisher of legal materials that operates the rating service identifying outstanding lawyers from more than 70 practice areas who have attained a high degree of peer recognition and professional achievement.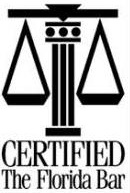 In 2007, I also became one of only 37 lawyers, out of the more than 100,000 Florida lawyers, to earn Board Certification in Aviation Law from the Florida Bar. To earn this, I had to complete significant additional legal education and training in the areas of aviation and space law, pass a very difficult specialty bar examination and prove that a significant amount of my legal experience involved the field of aviation law.
I have been a pilot since 1985 and now hold an FAA Commercial certificate with single-engine land and multi-engine land aircraft, an instrument rating and helicopter rating. I have owned five Piper single and multi-engine aircraft and have flown many types of other aircraft in my more than 1900+ accident and violation-free hours of total flight time. I was a former transplant pilot for Angel Flight, a charitable organization that provides free transportation to patients. I was a member of the Jacksonville Sheriff's Office Aviation Unit where I flew aerial interdiction and patrol in the unit's five helicopters and flew extradition trips in the units fixed wing aircraft. I am a member of the Airborne Law Enforcement Association and Airplane Owners and Pilot's Association (AOPA), the Lawyer Pilots Bar Association and National Transportation Safety Board Bar.
I have regularly taught courses in litigation and civil procedure as an adjunct professor at Florida Coastal School of Law from 2006 through 2016. I also taught undergraduate courses in Aviation Law at Embry Riddle Aeronautical University. I have lectured for the American Bar Association (2013 New York and 2016 Washington, D.C.); The American Association for Justice (2017 Boston); The Lawyer-Pilots Bar Association (2013 Whistler, B.C.), the Airborne Law Enforcement Association (2013 Orlando and 2014 Phoenix), and the Aviation Law and Insurance Symposium (2012, Jacksonville Beach).
After graduating college, I worked as a news photojournalist for various daily newspapers, including the Florida Times Union in Jacksonville and The State Newspaper in Columbia, South Carolina. I also worked part time with the Associated Press, United Press International and I shot concerts for a picture agency called Picture Group. Some of my favorites are here.
In 1985, I returned to Jacksonville to work with my father in his small chain of family jewelry businesses. Prior to that, in 1982, I attended the Gemological Institute of America in Santa Monica, California where I earned a Graduate degree in Gemology. I worked as a Gemologist in my father's retail Jewelry business and Diamond Centers until graduating from law school in 1999.
I completed the Jacksonville Sheriff's Office police academy at the Florida Community College of Jacksonville in 1989 and joined the Jacksonville Sheriffs Office (

JSO), where I served as a certified Reserve Police Officer for about 20 years. There, in addition to its Aviation Unit, I worked in many areas, that included uniformed patrol, crowd control, traffic/special operations, beach patrol, Vice and Narcotics.